Waiting for Hurricane Sandy. SJ Dodgson. MJoTA 2012 v6n2 1030

Wed Oct 24 2012



I drove supplies to my son Allister at Richard Stockton College near Atlantic City. He told me that he was rowing on Oct 27, and that the college was extremely concerned about the impending hurricane and "Frankenstorm".

I spent the evening trying to find a flight to Sydney leaving Oct 31. I realized rapidly that if the storm was anything like its predictions, a flight ticket on Oct 31 was useless, I would not even be able to get to New York City even if the planes were flying.

Richard Stockton College

click here

.


Sun Oct 28

2pm Philadelphia. I arrived at church, at the Tansi Igbo mass at St Cyprian's Church. The congregation was half the usual size, but the choir was complete and the music was wonderful as always. The Harvest Festival and Bazaar scheduled was cancelled because of the impending storm, but the priest Father Kiernan decided that the food that had been made had to be eaten, so after church we all trooped down to the basement.

Ah, the basement. During a memorial service in June, the basement floor was under 3 inches of water, and so I mopped and mopped and mopped. Seeing a woman in African clothes stand around and do nothing would have been a bad example. Some of the women followed me and helped, a lot of the women are nurses and have young children and get little sleep: they sat around dazed with their babies and some of the men, waiting for the floors to be cleared. I am thinking the basement will be under 6 inches of water tonight.

Father Kieran

click here

.

Above and below, Newton Lake Park, Camden County, New Jersey after Hurricane Irene in Aug 2011.

Mon Oct 29 2012

Tens of millions of residents have been evacuated and I am looking at pictures of flooded streets in coastal towns from Virginia to New Jersey. The sea water is high already in New York City, and that is really worrying the officials in New York.

12.25pm South Jersey. The trees are moving slightly, gray day, drizzling rain. My contractor got bored at his home, made 2 attempts to drive from his house to mine but the cops stopped him; third time he made it and is happily spackling and listening to music on the radio.

2.52pm South Jersey. I have heard from my daughter at Drexel University. She is catching up on homework and studying since classes and rowing are cancelled fro 2 days. She is going to have to make a mad dash to a campus shop for some essential supplies. I haven't heard from any of my 3 sons, or from a Haitian who is important to me. Are the phone lines down in New York City?

Haiti

click here

.

Rain, rain and more rain. Not heavy but not stopping.

10pm South Jersey. Hurricane Sandy made landfall in Atlantic City at 8pm. Atlantic City is 50 miles to my east; enough distance to stop the trees doing anything but wave happily in the wind.

Richard Stockton College, 9 miles from Atlantic City and with a huge lake in the middle of campus, is flooded, and I have not yet heard ether the solar panels in the parking lots have survived.

Where I am, we miss all extreme weather, all terrorism, all danger. Everything just blows over the top of Haddonfield and drowns Philadelphia, New York.

My son Angus in Edgewater New Jersey, which is across the Hudson River from Harlem: no power. My son Allister is camping out in Haddonfield while his college mops up the mess at Richard Stockton College. My son Miles in Baltimore: he seems to have ignored the storm and has kept building robots. My daughter Patience is still doing homework in Philadelphia in the Drexel dormitories.

I finally heard from my Haitian friend in Manhattan: last night, after speaking with me, he nipped out to NYC's JFK airport last night and decamped to Chicago.

A few trees are still waving at me, but nothing is loud, nothing flickered, nothing has fallen.

Cold and dreary, and the police stopping all cars: we are all in prison. But a good prison, getting ready to fly to Oz on Monday for 20 days.

But 100 miles north in New york City: my goodness, shelters are filled, forced evacuations, flooded streets, no power, street furniture and trees have fallen down all over the city.

Tues Oct 30 2012

Press release from New York City: "Notification issued 10/30/12 at 2:00 PM. All NYC East River bridges are open but please stay off the roads and allow emergency personnel the opportunity to restore essential city services. All MTA bridges except the ones in the Rockaways are open. NYC public parks will be closed until further notice."

Latest Top (2) News
---
CPHC Central North Pacific Outlook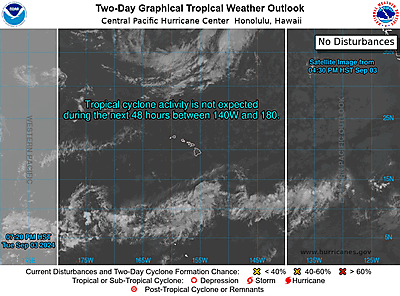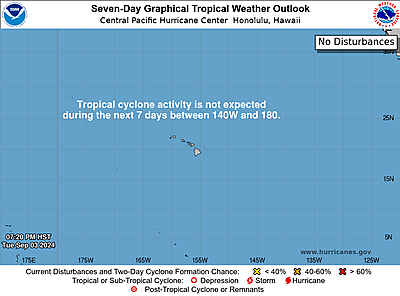 ZCZC HFOTWOCP ALL
TTAA00 PHFO DDHHMM

Tropical Weather Outlook
NWS Central Pacific Hurricane Center Honolulu HI
800 PM HST Thu Nov 30 2023

For the central North Pacific...between 140W and 180W:

No tropical cyclones are expected during the next 7 days.

The central North Pacific hurricane season officialy ends today,
November 30. The is the last regularly scheduled Tropical Weather
Outlook of the 2023 central North Pacific Hurricane Season. Routine
issuance of the Tropical Weather Outlook will resume on June 1,
2024. During the off-season, Special Tropical Weather outlooks will
be issued as conditions warrant.

$$
Forecaster Bohlin
NNNN






Fri, 01 Dec 2023 05:15:47 GMT

---
NHC Eastern North Pacific Outlook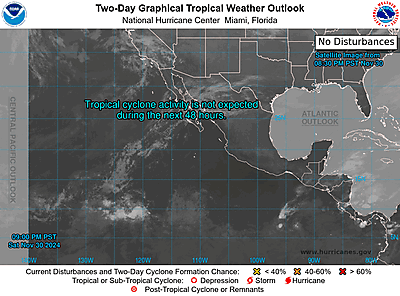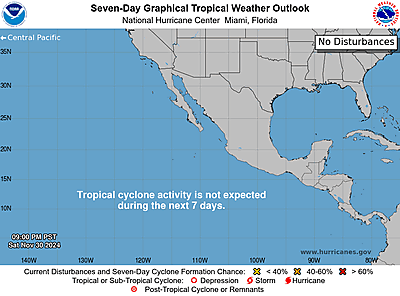 ZCZC MIATWOEP ALL
TTAA00 KNHC DDHHMM

Tropical Weather Outlook
NWS National Hurricane Center Miami FL
1000 PM PST Thu Nov 30 2023

For the eastern North Pacific...east of 140 degrees west longitude:

Tropical cyclone formation is not expected during the next 7 days.

This is the last regularly scheduled Tropical Weather Outlook of the
2023 eastern North Pacific Hurricane Season. Routine issuance of
the Tropical Weather Outlook will resume on May 15, 2024. During
the off-season, Special Tropical Weather Outlooks will be issued as
conditions warrant.

$$
Forecaster Cangialosi
NNNN






Fri, 01 Dec 2023 05:01:09 GMT